A brief history of our club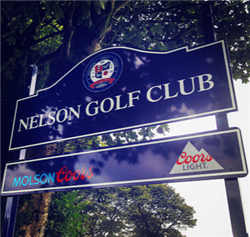 Nelson Golf Club was founded in 1902 at Kibble Bank ( 9 holes). The Club then moved to Marsden Heights in 1917, with the official opening of the clubhouse early in 1921.
The club is situated on a plateau overlooking Nelson and Burnley and visitors are able to reward themselves with the finest series of panoramic views of landscape it is possible to imagine. The late Dr. MacKenzie who laid out the course managed a design which has been skilfully planned to avoid any wearisome climbing. The course is laid out in two loops of nine and the 1st and 10th holes are very conveniently situated by the clubhouse.
On a visit to Nelson Golf Club, you will be assured of a warm Lancastrian welcome and be able to enjoy a challenging round of golf and then relax in the clubhouse and savour excellent catering.
Nelson Golf Club is situated on a plateau over 800 feet above sea level overlooking the towns of Burnley, Nelson and Colne.In spite of being on top of the hill it is not a tiring course to play.
The late Dr. Alister Mackenzie of Leeds, who laid out the course, managed a design which does not include any wearisome climbing.
The course is laid out in the traditional style with two loops of nine holes, having the tenth tee available as an alternative starting point.The first nine holes follow the outer perimeter of the course and run clockwise, whilst the second nine holes return on the inner, in an anti-clockwise direction.
The secret of a low score lies in the five par 3's. None of these is particularly long, except the 16th, which is slightly uphill and tends to play longer than its measured 184 yards. The wind can however cause problems with club selection, and all these greens are well protected. Any player who can make level par on these holes can lay the foundations of a good score.