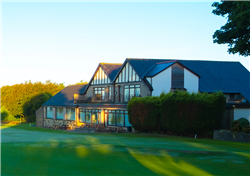 Nelson Golf Club is situated on a plateau overlooking Nelson and Burnley and visitors are able to reward themselves with the finest series of panoramic views of landscape it is possible to imagine. The late Dr. MacKenzie who laid out the course managed a design which has been skilfully planned to avoid any wearisome climbing. The course is laid out in two loops of nine and the 1st and 10th holes are very conveniently situated by the clubhouse.

Whether you've just finished a round of golf, or require a relaxed night out, our lounge provides an ideal place to relax and enjoy being with friends and family. Our friendly bar staff, led by Phil Wright, can provide any beverage you desire from our well stocked bar, including weekly guest beers, at reasonable prices.
The lounge, offering spectacular views of the golf course, is an ideal place to relax with friends and discuss your round of golf.
You can enjoy light snacks in the lounge or full meals in our dining area, cooked freshly by our chefs.
Our Club Professional Niall Ormerod and his assistant David Lavin are on hand to help with all your golfing needs.
An ideal place to hold a social event

Our Club House with lounge and dining area is available for party bookings to suit any occasion. We can offer a full catering service and all the bar requirements you need, as well as offering a sound system for background music, or even discos.
To arrange a booking or for further details, be sure to contact our General Manager.